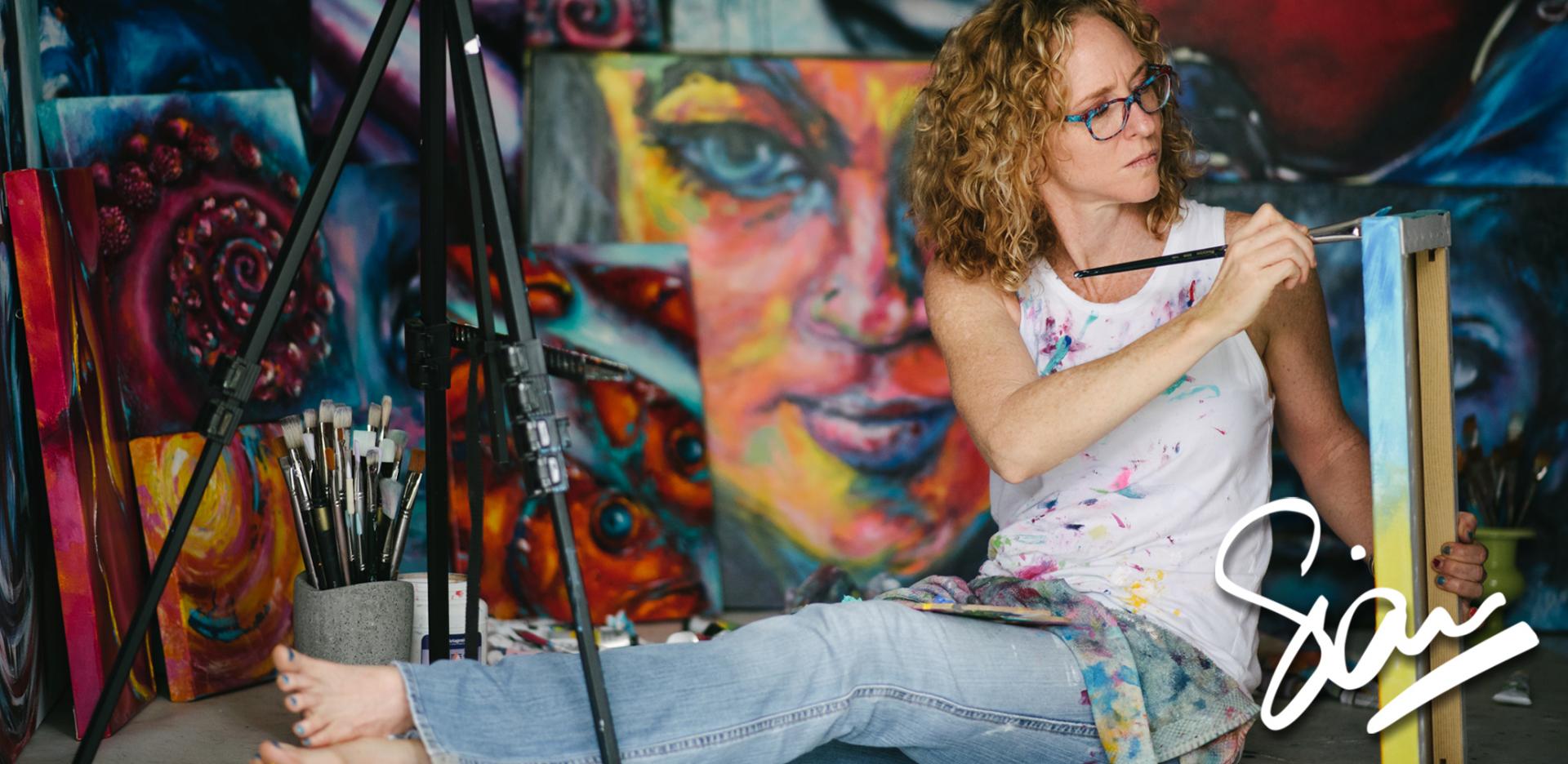 About the Artist
SIAN PAMPELLONNE WAS BORN AN ARTIST. Actually, she was born an artist in a formidable line of artists. Now in the third generation, it came as little surprise that Sian would choose to pursue art.
Sian's story begins in the twin-isle state of Trinidad and Tobago, where she was born and lived until a young age when the family migrated to Barbados, a country which is now the artist's home. From her formative years through to her adolescence, Sian's creative spirit was nurtured and molded by her grandfather, the celebrated Caribbean artist, Gordon Parkinson, who she credits as being her principal mentor. Recalling the countless afternoons spent with her grandfather as his de facto apprentice, she was taught to channel her pent up energies, unexpressed thoughts and feelings into creating works of art using whatever treasures she could find in and around his studio. Where words failed her, art became her speech and her expression. 
"My grandfather taught me to look at the world through the eyes of an artist where colours are endless and nothing is as it seems. I was taught to use art as a form of self-expression and experimentation. He instilled in me the tools and techniques which I could use to explore the possibilities of my creative self. Anyone can paint an esthetically pleasing picture but an artist hones those skills needed to paint with emotion." Above all, he taught me there is no such thing as "bad art".
Growing up in a creative environment, Sian was always fascinated with the mental characteristics, behaviours and interaction of the people she encountered, particularly the young and curiously enquiring minds of children. This natural curiosity led her to enroll in the University of the West Indies to do a course in Child Psychology. However, despite her interest, Sian could not envisage herself having a full-time career that did not involve art. In 1989, she was accepted into the Associates of Arts in Communication Design programme at the International Fine Arts College in Miami, Florida. She excelled and graduated Summa Cum Laude and was made the Valedictorian of her graduating year. On graduating, the perpetual student went on to obtain a Bachelor of Science in Communication degree – Cum Laude – from the Florida International University.
"Pursuing a degree in Mass Communication, specializing in advertising allowed me to marry my interest in psychology – namely what drives a consumer – with arts and design."
After completing her studies, Sian spent the next two years working as a Creative Director in the U.S. In 1996, she returned to her native Trinidad and took up the post as a graphic designer at an established advertising agency before taking a leap of faith where she opened her own agency, Redhead Designs, a year later.
2004 was a pivotal year in Sian's life since she decided to relocate to Barbados permanently and open her self-named "Sian In Design Inc." advertising studio next door to her grandfather's art studio. Naturally, being in such close proximity to her mentor meant that Sian also resumed her daily routine of visiting his studio. Although her main focus became building a successful business, one which has serviced some of the most recognizable companies and brands in Barbados and across the region, her passion for art could never be quelled and now seldom a week will pass without finding her painting in her expansive home studio.
"As a visual artist, I consider myself simple. My work is unpretentious, and process driven. I generally ask questions of myself and others and paint that response. I have no preconceived notions, each piece is a journey of understanding, growth, and discovery.  
I always have a concept of what I wish to paint to convey my thoughts, but I am not exactly sure about 'the what' or where it will end up. Our dialogue informs the work. Therefore, my reflections will capture the essence of our dialogue. This makes the work exciting to me and I hope for the viewer as well, as what you see won't be predictable or maybe it will. That is the thing, everyone's perception comes from their personal experiences and view point but are we willing to listen, truly listen to each others view point without persecution. Being too honest can make everyone uncomfortable, including me, and I am acutely aware of this internal dialogue. But I am also very aware that in order for our perceived differences to lessen we all have to get a little uncomfortable. 
I have taken the position to paint my truths and let my work speak for how I feel about the time and space in which I presently live."
The domain of the painter is one where words are bound to fail. Their world is filled with a broad spectrum of colour, fluid shapes, and limitless boundaries. Sian Pampellonne is one artist who traverses this world frequently. She uses acrylics and mixed media to create intricate visual stories, each unique to its canvas. For her, art is catharsis. Her vivid and emotive pieces resonate deeply with their admirers, both those who fall in love in passing, and those who become avid collectors of her work. Though her recognizable artworks adorn the walls of many local and international collectors, each one is a piece of her story that will never quite be purged from her innately creative spirit.
She continues to work both as a successful designer and an established artist. Her art pieces can be viewed on her website and social media pages, in art galleries across the region, and also at her studio located in Barbados (by appointment).
 
Facebook: fb.me/sianpampellonneartist
Instagram: sianpampellonneartist
EXHIBITIONS
2022

DE-COLONISATION - THE EXHIBITION: The Embassy of Argentina

2021

CARMICHAEL EXHIBITION: Gallery of Caribbean Art

TRANSFORMING THE MIDDLE PASSAGE FROM THE ABYSS OF DARKNESS TO A RAY OF HOPE: St. George Parish Church and the Anglican Diocese of Accra, Ghana

REFLECTIONS OF EMANCIPATION AND POST COLONIAL SOCIETY: Caribbean Museum Centre for the Arts, St. Croix, US Virgin Islands

2020

THE PRINT SHOW: The Grove Gallery

2019

THE PRINT SHOW: The Grove Gallery

CENTRAL BANK OF BARBADOS: Grand Salle Gallery

MANIFESTO: Barbados Parliment

2018

DIVERSITY 2: Gallery of Caribbean Art

THE ANONYMOUS EXHIBITION: Frame Art Gallery

CELEBRATE OUR WATERS: Gallery of Caribbean Art

CARMICHAEL EXHIBITION: Gallery of Caribbean Art

INSPIRED: Art Splash Gallery

LITTLE GEMS SHOW: Barbados Arts Council

THE PRINT SHOW: The Grove Gallery

CARIBBEAN FINE ARTS FAIR: Grand Salle Gallery

KPMG, CEDA & THE UN WOMEN: Sandy Lane Golf Course

2017

THE ANONYMOUS EXHIBITION: Frame Art Gallery

SOLO ART SHOW "UNCOVERED": Hideaway Design Warehouse, Trinidad

ARTIST ALLIANCE BARBADOS: Norman Centre/Sheraton

THE BIBA CHARITY "AN EVENING WITH THE MASTERS": Mercedes Showroom

PERSPECTIVES: Art Splash Gallery

2016

THE ANONYMOUS EXHIBITION: Frame Art Gallery

THE CARMICHAEL EXHIBITION: Village Gallery

NATIONAL CULTURAL FOUNDATION: Sherbourne Centre

DIVERSITY: Gallery of Caribbean Art

CARIBBEAN FINE ARTS FAIR: Divi Southwinds

2015

THE ANONYMOUS EXHIBITION: Frame Art Gallery

THE CARMICHAEL EXHIBITION: Village Gallery

FOR THE LOVE OF ART: Gallery of Caribbean Art

2014

THE CARMICHAEL EXHIBITION: Village Gallery
AWARDS
2022

THE CHARMICHAEL PRIZE EXHIBITION "Best Painting People's Choice"

2016

NATIONAL CULTURAL FOUNDATION (NIFCA)

Fine Arts Bronze Award
PUBLICATIONS
| | |
| --- | --- |
| 2022 | THE NATIONAL CULTURAL FOUNDATION'S VISUAL ARTS COMMEMORATIVE CATALOGUE |
| | |
| --- | --- |
| 2021 | BARBADOS VISUAL ARTS MAGAZINE. Cover Image. December |
2018

MACO MAGAZINE: CARIBBEAN DESIGNERS ISSUE

LIVING BARBADOS MAGAZINE "The Eco Issue", June 2018

2017

WORLD OF INTERIORS MAGAZINE (UK): May, June and July

ARTSY SHARK ON-LINE GALLERY: Featured artist

CULTUREGO MAGAZINE: Featured artist